ADT-HC4300 Economical type CNC Plasma/flame cutting control system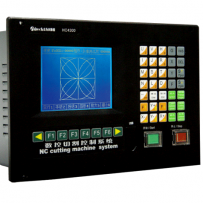 ADT-HC4300 is an economical plasma and flame cutting control system, it possesses very stable software and has been popular in the market for around 8 years. This control system has passed CE and ISO9001 certificates. It can be applied to portable plasma / flame cutting machines or small gantry cutting machines.
Display: 320*240; 5.7 Inch LCD display;
Memory: 32M RAM, 256M Flash ROM;
Control axis: 3 axes; Linkage axis: 2 to 3 axes;
Programmable input/output: 32/16 (fully optical coupler insolated);
Pulse output: pulse + direction or pulse + pulse;
USB, series port;
Support Auto-height controller;
Perfect plasma/flame Process; Kerf &gas compensation;
Adopt ARM7 processor technology.

Components
Controller + Data Line + Connector

Optional control Part:
Nesting Software+24V Power supply
Portable Plasma Cutting Machine;
Portable Flame Cutting Machine.
Economical gantry type CNC plasma/flame cutting machine