QS7AA010M Servo Driver | £210 plus VAT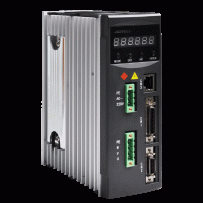 QS7AA010M is a new generation of general-purpose servo motor driver, which is optimized and improved on the basis of QS6 series servo driver. Adhering to the series QS6 series servo driver excellent quality, more stable and more convenient. More mature and stable, rich and complete information. The servo drivers add to 485 new communication functions, more convenient and reliable connection with the host computer or controller software.
£210.00
Prices are NOT inclusive of VAT
Fully retain the advantages characteristics of QS6 series servo driver.
AC sine wave control, torque smoothly and without pulsation.
2500 ppr incremental photoelectric encoder, high positioning accuracy, rotary positioning accuracy up 1/10000R.
Speed ratio up to 1:5000, from low speed to high speed torque characteristics are stable.
High-speed arithmetic processing FPGA, maximum motor speed up to 5000RPM.
A rich complete set of parameters that can be configured to run different operating modes, so meet different demand.
Position, speed, torque control mode, using widely.
Adopt intelligent space vector control algorithm (SVPWM), could produce greater torque and less noise.
Up to three times the overload design, with a load capacity greater.
Perfect protection: over current, overvoltage, overheating and encoder failure, etc.
Perfect condition monitoring functions, such as the position error, motor speed, feedback pulse, command pulse and so on.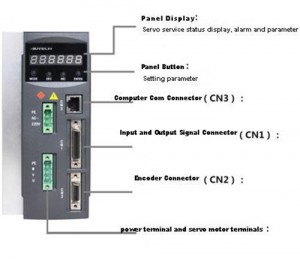 | | |
| --- | --- |
| Input Voltage | AC220V -15%~+10% |
| Driver Current | 10A |
| Matching Motor | ≤400W Low-inertia Motor |
| Using Temperature | Work:45℃ Storage:-40℃~55℃ |
| Relative Humidity | 40%~80% with no condensation |
| Atmosphere | 86-106kpa |
| Control Mode | ①Position control ②JOG control ③Speed control ④Torque control ⑤Position and speed control ⑥Inside pulse control ⑦Electric tool carrier control |
| Pulse Command | ①Pulse+ Direction ②CW + CCW Pulse ③ Two-phase AB orthogonal pulses |
| Control Precision | 0.01% |
| Response Frequency | ≤200Hz |
| Pulse Frequency | ≤500kHz |
| Speed Ratio | 1:5000 |
| Regenerative Brake | Internally Installed |
| Electronic Gear | 1/30000~30000/1 |
| Overload Capacity | ≤300% |
| Feedback Pulse | 2500p/r, Frequency division can be set arbitrary within 0-128 |
| Display Function | Motor speed, motor current, motor torque, motor position, the position deviation, the number of command pulses, the pulse frequency, the straight-line speed, input and output diagnostic |
| Protection Function | Over speed, over current, overvoltage, under voltage, overload, super bad, encoder fault, the temperature is too high, the internal chip failure, module failure |