QS7AA030M AC Servo Driver | £255 + VAT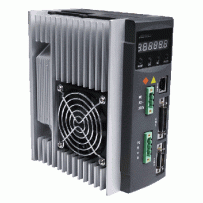 QS7AA030M is a universal servo drive product based on QS6 optimization and improvement, adhering to the Adtech QS6 series of excellent quality, more stable and more convenient. The QS7AA030M servo motor drive are more mature and stable with rich and complete data. New adding 485 communication function makes to connect with the upper computer software or controller more convenient and reliable.
£255.00
Prices are NOT inclusive of VAT
The characteristics of last generation QS6 servo drivers have been fully retained.
AC sine wave control, smooth torque, no impulse.
2500 line incremental photoelectric encoder, high positional accuracy, rotation positional accuracy can reach 1/10000R.
Speed ration can be as large as 1:5000, has stable torque characteristics from low speed to high speed.
Adopting high speed FPGA processing, motor fastest rotation speed can be 5000RPM.
Rich and complete parameter setting can be configured with different ways of working and operating characteristics to adapt to different requirements.
Possess position, speed and torque control mode, has applications in a wide range.
Use intelligent Space Vector control (SVPWM), has much larger torque and much less noise than traditional SPWM.
Up to three times overload design, stronger load ability.
Perfect protection function: over current, overvoltage, over heat, encoder abnormal etc.
Perfect condition monitoring function, such as positional deviation, rotate speed, feedback impulse, command impulse etc.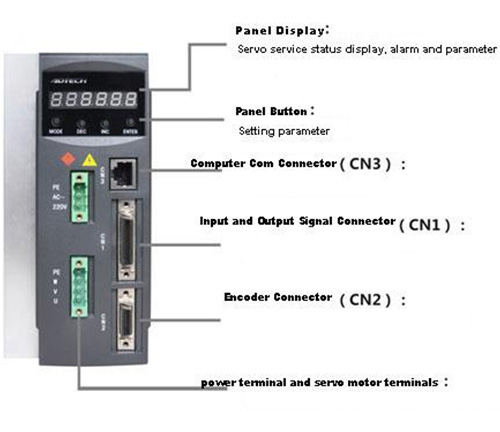 Input Voltage

AC220V -15%~+10%

Driver Current

30A

Matching Motor

750W~1500W motor

Using Temperature

Working environment temperature:45℃

Storage environment temperature:-40℃~55℃

Relative Humidity

40%~80% (none condensing)

Atmosphere

86-106kpa

Control Mode

①Position control ②JOG control ③Speed control ④Torque control ⑤Position and speed control ⑥Inside pulse control ⑦Electric tool carrier control

Pulse Command

①Pulse+ Direction ②CW + CCW Pulse ③ Two-phase AB orthogonal pulses

Control Precision

0.01%

Response Frequency

≤200Hz

Pulse Frequency

≤500kHz

Speed Ratio

1:5000

Regenerative Brake

Internally Installed

Electronic Gear

1/30000~30000/1

Overload Capacity

≤300%

Feedback Pulse

2500p/r, frequency division can be set arbitrary within 0-128

Display Function

Rotate speed, motor current, motor torque, current location、positional deviation, command impulse count, current pulse frequency, space rate, I/O diagnose, analog input values, etc

Protection Function

Over current, overvoltage, low voltage, overload, over heat, lack phase, over speed, ncoder abnormal, out of tolerance, mode abnormal alarm etc.