ADT-HC4500 CNC Flame/Plasma Cutting controller | £610 plus VAT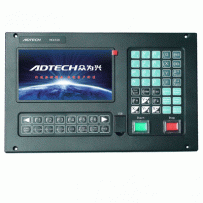 ADT-HC4500 is a new style Plasma/Flame cutting controller based on the HC4300. It adopts an ARM9 processor, super large customized IC chip, 7 Inch color LCD display screen, high Speed /precision and stable quality of hardware.
£610
Prices are NOT inclusive of VAT
ARM9 high-speed Microprocessor and super large programmable FPGA
Real time multitask control technology and hardware interpolation technology
7 Inch real color display screen, Friendly and easily operation interface,
Supporting multi language display;
All Photovoltaic isolation control, super large anti-interface ability;
Large storage space process file: 256M, demand complicated/large program running and processing
Plasma /flame controller can control 3 step/servo motor at the same time, which adopt doubt axis at one time or develop 3 axis according customer requests;
Graphic library: 63 graphs, which can cutting hole or slice as choose;
Graphic Dealing function, which are supporting edit Radom rotation, correction and mirror image function etc;
Delay, preheating, perforating, changing nozzle, moving parts, moving parts etc process control;
Break point recovery function
USB, RS232 serial communication control, directly read file buy U disk
Customized software: strong>it can apply for Plasma, Punch and engraving function within one machine, simple laser cutting etc.
Components:
Controller + Data Line + Connector
Optional Parts:
Nesting Software+ 24V power
| | |
| --- | --- |
| Power Request | DC 24V 50/60Hz |
| Power Dissipation | <10W |
| Work Temperature | 0°C-60°C |
| Storage Temperature | -20°C-80°C |
| Work Humidity | 20%-95% |
| Storage Humidity | 0%-95% |
Digital Input:
Channel: 32, All Photovoltaic isolation
Input Voltage: 12-24V DC
High Level >4.5V
Low Level <1.0V
Isolation Voltage: 2500V DC
Counting Input:
Channel: Spindle ABZphase coding input, All Photovoltaic isolation
Maximum counting frequency: 2MHz
Input Voltage: 5-24V DC
High Level>4.5V
Low Level<1.0V
Isolation voltage: 2500V DC
Pulse output:
Channel: 3 Axis Pulse, 3 axis direction, All photovoltaicisolation
Maximum pulse frequency: 2MHz
Output type: 5Vdifferential output
Output mode: Pulse +direction or pulse + pulse
Digital Output:
Output Channel: 16, All photovoltaic isolation
Output type: NPN open-collectorout put 12-24V DC, Max current 100mA.
RS-232 Baud rate(bps):
1200,2400,4800,9600,19200,38400,57600,115200
CNC plasma/Flame cutting machine
Laser cutting machine
Plasma, punch, engraving all in one machine.